Canadian Bankers Association says only 0.18 per cent of Canadian homeowners are underwater, despite record-high home high prices and mortgage debt 2 days ago By: Frank O'Brien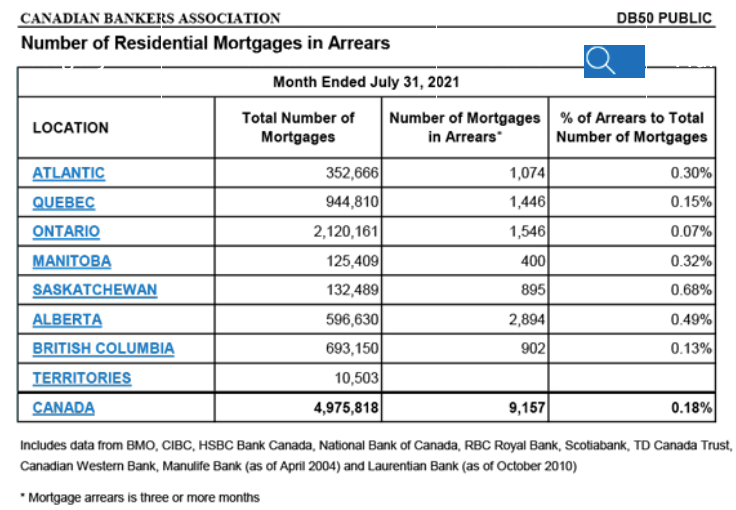 When COVID-19 led to business lockdowns and layoffs early in 2020, there was widespread concern of a looming spike in mortgage defaults.
Yet, despite a record rise in Canadian mortgage debt – and home prices – in nearly every province, this expected increase never happened.
Total residential mortgage debt in Canada has surpassed $2 trillion, according to Statistics Canada, the highest level on record. The current average home price in Canada is $686,656, down from the record peak of $715,000 seen this spring, but 13 per cent higher than in September 2020, reports the Canadian Real Estate Association.
A report released October 14, 2021 by the Canadian Bankers Association (CBA), however, revealed that as of July 31, 2021, there were only 9,157 mortgages in arrears out of total of 4.97 million residential mortgages in Canada.
This amounts to a 0.18 per cent default rate—considered low even by standards in Canada, which traditionally has a default rate in the 0.30 per cent range.
A mortgage default is when at least three consecutive monthly mortgage payments have been missed.
The CBA found the two provinces with the highest average home prices, Ontario and British Columbia, also had the lowest mortgage defaults. In Ontario, just 0.07 per cent of mortgages were underwater as of July 31, while B.C. had the second-lowest default rate at 0.13 per cent.
Alberta, with a default rate of 0.49 per cent, and Saskatchewan, where 0.68 per cent of mortgages were in default, had the highest rate of problem mortgages in the country.
Still, this means that less than 3,000 of the nearly 600,000 mortgages in Alberta and only 895 of Saskatchewan's 132,489 mortgage holders were behind in monthly payments.
In a separate report, the Bank of Canada included these key reasons for "the lack of a noticeable increase in payment arrears despite the large economic disruption caused by the pandemic:"
• Employment and economic activity have rebounded strongly from their troughs in spring 2020.
• Policy-makers have provided households with considerable financial support and continue to do so.
• Monetary policy actions (through the Bank of Canada) have pushed short- and longer-term interest rates lower, making credit more affordable for households.