Manufactured home parks offer B.C.'s most affordable housing – and contemporary designs are tempting young buyersJun 11, 2021 1:01 PM By:  Frank O'Brien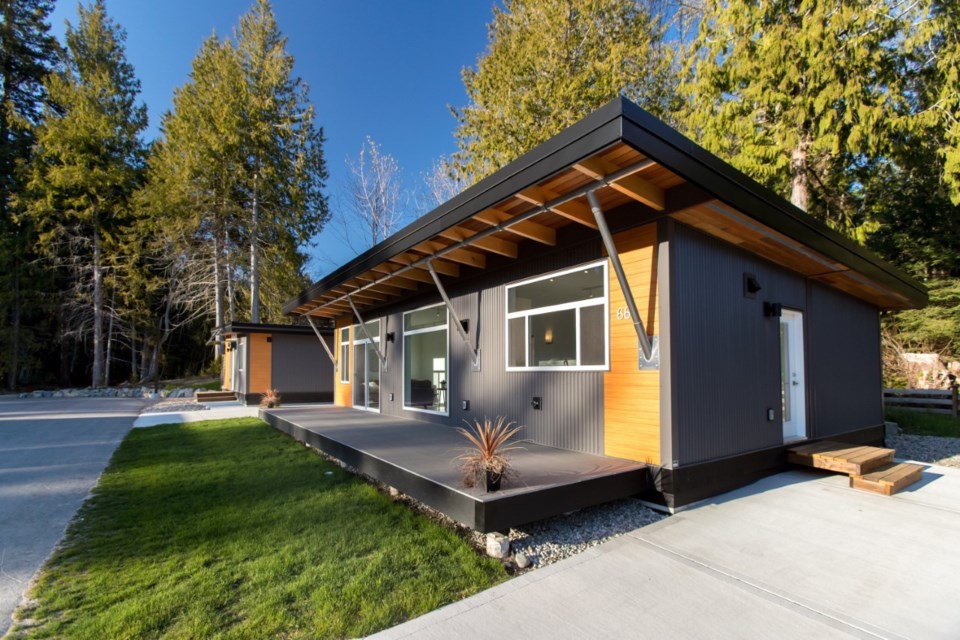 Click Homes are selling fast in a Sunshine Coast manufactured home park. | Click Modular Homes
B.C. consumers often dismiss manufactured homes as a housing option, but the rise of Millennial buyers, B.C.'s runaway housing prices – and modern new designs – may put Canada's most affordable homes on buyers' wish lists this year.
Typical homes in B.C. manufactured home parks often sell for $250,000 or less, a fraction of the cost of detached houses, which average $893,000 across B.C. and $1.8 million in Greater Vancouver.
Some manufactured home park owners are now introducing bright, contemporary designs that are light years removed from a traditional trailer.
The Big Maple manufactured home park, which is located near Davis Bay beach on the Sunshine Coast, for example, has set up and sold 22 Click Homes, a locally-made house design from Click Modular Homes, that average around 1,000 square feet with two bedrooms.
The modern factory-built homes were sold over the past three years, but mostly since 2020, at prices that started at $298,000 and are now in the $334,000 range, according to Big Maple co-owner Ellie Stoscher.
This compares with a benchmark Sunshine Coast detached-house price of $838,900 in May, up 43 per cent from a year earlier, according to the Real Estate Board of Greater Vancouver.
Big Maple buyers also pay a monthly pad rental fee of $500.
Stoscher said she bought adjoining land to house the Click Homes, which are set along their own street in the park. "We are nearly sold out now," Stoscher said, with just five home sites left and two of those are already claimed.
Big Maple is an age 55-plus community, which, she said, slowed Click Home demand.
"If we could sell to Millennials, we would have sold all of the homes in five minutes," Stroscher said.
Individual buyers of manufactured homes on a rental pad usually require 35 per cent of the purchase price as a down payment, but the financing, often through a local credit union, offers similar mortgage rates, terms and insurance as in the traditional housing market.
The big difference in B.C. is the hundreds of thousands dollars less that the mortgage will cost.
Manufactured home parks are also popular with investors, according to Eugen Klein, president of the Klein Group, Vancouver, which specializes in sales of the parks.
In 2020, 28 manufactured home parks were sold in British Columbia. While this was down 10 per cent from a year earlier, the value of sales increased 16 per cent, year-over-year, to $103.1 million, according to the annual B.C. Mobile Home Park Report from the Klein Group.
Klein said manufactured home parks are demanding higher prices this year, which has compressed the capitalization rate, but it still remains an average north of 6 per cent, which is among the highest for any real estate sector.
"In Cariboo, for example, you may get a 6.5 per cent cap rate, which is much better than a 2 per cent cap for a rental apartment building in Kitsilano," he said
Klein said Vancouver investors are getting the message: over the past two years 60 per cent of buyers of B.C. manufactured parks have come from the Lower Mainland.
"Almost none of the buyers plan to live in the parks," Klein said, noting that a well-designed park with solid infrastructure is often a low-maintenance, turnkey investment, and are popular with those seeking retirement income.